Costa Rica makes a perfect destination for nearly any traveler. Whether you're looking for remote rainforest wilderness, a bustling beach town, or a thriving capital city full of museums and markets, this Central American country delivers. And when it comes to activities, there is something for everyone. Adrenaline seekers, beach loungers, and nature lovers will find everything they could ask for in a vacation in Costa Rica. If you're thinking about planning your trip–as if you needed to be convinced!–make sure you take a look at these 3 unique tourist activities that are not to be missed in the tropical paradise that is Costa Rica.
Watch turtles nesting in Tortuguero.
Tortuguero is a protected turtle nesting zone located on Costa Rica's northern Caribbean Coast. It can only be reached by boat, which just adds to the allure of this small town. There are no vehicles, no paved roads, and a generally slower-paced, more enjoyable vibe to this unassuming town. Schedule a night walk along the beach where your only light is provided by the moon, and, if you're lucky, you may spot a mother turtle making a nest and laying her eggs. This is a remote corner of Costa Rica and you won't find much English here, so make sure your Spanish is in good shape before embarking on this unforgettable journey.
Peer inside a volcano's crater in the Central Valley.
Costa Rica is full of volcanos, which can lead to some pretty incredible scenery. Even as you arrive in San Jose's Juan Santamaria International Airport, you'll notice that mountains and volcanoes create a dramatic scene all around the Central Valley. You have your pick of volcanoes to visit, all within easy driving distance of the capital. Several in the surrounding area have been declared parks and make for excellent day trips. If you prefer to drive your way almost to the top, choose Volcan Poas. If you'd rather walk some well manicured trails, admiring the vegetation along the way, you'll want to visit Volcan Irazu.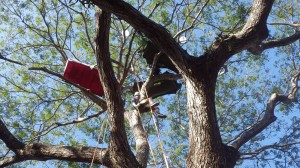 Climb trees on the Pacific Coast.
Recreational tree climbing may be one of the most unique tours in Costa Rica. If you're up for a physical challenge that rewards you with some incredible views at 80 feet or more off the ground, you'll want to give the folks at Upventures a call. With monkey and scarlet macaw viewings quite common, this may be your best bet at getting side by side with local wildlife. Even better, join them for a tree camping expedition–this is one of only a few places in the world where a tour like this is offered.
Turtle tours, volcano viewing, and tree climbing are just three of the many exciting activities a traveler can seek in Costa Rica. Whether it's your first time traveling to Latin America or you have many such trips under your belt, Costa Rica will win you over with its natural beauty and charm. If you're ready to schedule your trip, we encourage you to contact us first to learn more about the Spanish learning opportunities we offer near you. Happy travels!
Leave a Reply