Though it's a relatively popular vacation destination for South Americans, Uruguay is largely undiscovered by travelers from North America. Situated south of Brazil and alongside Argentina, many travelers are unaware of the charm of this beautiful country. From beaches to islands to centuries-old neighborhoods, Uruguay may be just the low-key, lower-cost alternative you're looking for in a South American destination. These are just a handful of the places you'll want to visit if you book a trip to Uruguay:
Barrio Historico in Colonia de Sacramento
If you're vacationing in Buenos Aires and are looking for a quiet, relaxed retreat away from the hustle and bustle of the big city, Barrio Historico is the place to go. This preserved town features cobblestone walkways and colonial buildings, and the most interesting mainstay may be the old, parked cars that have become part of the landscape. Hire a guide for a walking tour of the town or visit the small, unpretentious museums and you'll learn fascinating bits of information about the area.
Mercado Agricola in Montevideo
Montevideo's agricultural market recently went through a major renovation and now offers visitors the cleanliness and organization of a modern market with the charm and history of a scene that's been around for over 100 years. Tourists and locals both congregate in this beautiful indoor market, where traditional stalls selling fruits and vegetables are just the tip of the iceberg. Come to sample lots of food, artisan beer, and homemade ice cream, plus browse through the unique shops.
Casapueblo in Punta Ballena
This stunningly unique property is a hotel, museum, and cafe created by Uruguayan artist Paez Vilaro. The shape of the building is unlike anything else, parts of it seeming to melt under the hot sun while others showcase a blend of architectural styles and detailing. Located on a cliff at the water's edge, visitors gather for the sunset every evening. The most fortunate of guests get to meet the artist for themselves while everyone is welcome to purchase a piece of his artwork from the gallery.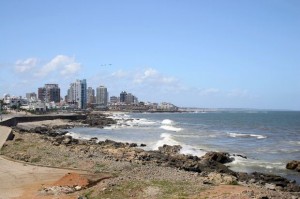 Punta del Este Beaches
Miles of gorgeous white-sand beaches ensure you can't go wrong with a visit to Punta del Este. Visit the famous fingers statue on Playa Brava then take a dip in the beach's calm waters. There are restaurants, bars, and cafes for every taste, from casual to formal, though there's a generally upscale feeling to much of the area.
Piriapolis Lookout Points
You have your choice of numerous lookout points when it comes to taking in the views in Piriapolis. In a country generally known for its flat terrain, you might just find the uphill hiking exhilarating, and you will most certainly appreciate the views from the top of Cerro San Antonio, Cerro Pan de Azucar, or Cerro del Toro. It's easy and enjoyable to spend a day or two strolling along the beachfront main strip, eating and drinking your way through town.
If you have a trip to Uruguay coming up, there's no better time to learn some Spanish or brush up on your existing skills with language instruction classes. If you would like to learn more about the programs we offer, contact us and we'd be happy to answer any of your questions or help you get signed up right away.